BODY/SPREADER
12M Dump
– Floor strength ensures an even lift from side tilt cylinders. Eliminates the necessity of a 50/50 flow divider. Side tilt cylinders are equipped with a nitrated rod. Hinged conveyor cover remains with body at all times.
– Six (6) panel tailgate includes 3/16" thick Brinell 450 steel.Full width tailgate enables 12M body to undertake all dump body functions.
– Floor rotates on 1 3/4" hard induction chromed hinge shaft for superior strength.
– Long members of 10" I-Beam @ 25.4 lb/ft. STANDARDS.
-Bolt-on floor with 3 greasing points on single axle,4 greasing points on tandem axle.
– Floor and conveyor cover is constructed from 3/16" thick Brinell 450 steel.
– Honeycomb type floor under structure creates a material shedding design
LOW CENTER OF GRAVITY
A. Load is substantially diminished before requiring activation of side tilt mechanism.
B. Full capacity of body is utilized.
C. Rapidly convert from dump to spread mode by adjusting hinged conveyor cover.
Slotted front discharge system allows gear box, sprockets,bearings and haft to be easily removed.
Opening in rear apron permits quick access to the chain, chain adjusters, shaft and sprockets.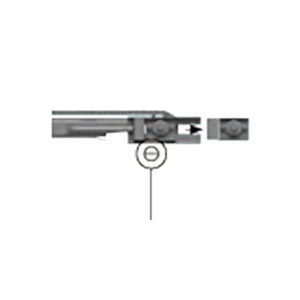 Chain tension adjustment is through two (2) grease cylinders.
MODELS NUMBER
INSIDE
LENGTH
INSIDE
WIDTH
SIDE
HEIGHT
TAILGATE
HEIGHT
WATER LEVER
CAPACITY
WEIGHT
(APPROX.)
TCB-9-T-AL-S-LF
9'
88''
27''
52'
5.5 cu yds
4 360 lbs
TCB-10-T-AL-S-LF
10'
88''
27''
52'
6.11 cu yds
4 860 lbs
TCB-11-T-AL-S-LF
11'
88''
27''
52'
6.72 cu yds
5 360 lbs
TCB-12-T-AH-S-LF
12'
88''
39''
52'
10.59 cu yds
5 880 lbs
TCB-13-T-AH-S-LF
13'
88''
39''
52'
11.47 cu yds
6 300 lbs
TCB-14-T-AH-S-LF
14'
88''
39''
52'
12.35 cu yds
6 670 lbs
TCB-20-T-CH-C-CH-LF
20'
88''
39''
51'
9.89 cu yds
8 800 lbs
TCB-20-T-CH-S-LF
20'
88''
39''
51'
16.44 cu yds
9 300 lbs
Sides and front panel manufactured from Brinell 450 steel
Aluminum tailgate
Electronic spreader control
Coal chute door (1, 2, or 3 as needed)
Rear tailgate lateral opening (barn door)
Bolt-on apron
Pre-wetting system with 160 gallon tank installed under cabshield
Summer chute
Special paint
Hydraulically actuated discharge chute
Screens
Lights in rear corner posts
Extended greasing points on floor hinge (3 or 4)
Sides, front panel and tailgate constructed from 304 stainless steel
Hinged, fold-up type ladder