Bucher Municipal (Distributed in Canada)
UNIQA SPREADERS
UH3000
UH4000
UH5000
Hopper capacity
m3
4 to 7
5 t0 12
6.5 to 16
cu yd
5.2 to 9.2
6.5 to 15.7
8.5 to 21
Brine tank capacity
l
2270
2600 to 3000
3700
gal
600
690 to 790
980
Min/max.
spreading width
m
2÷12
2÷12
2÷12
yd
2.2÷13.1
2.2÷13.1
2.2÷13.1
Min/max. salt
dispensing capacity
g/m2
5÷40
5÷40
5÷40
oz/sq yd
0.21÷1.7
0.21÷1.7
0.21÷1.7
Min/max. grit
dispensing capacity
g/m2
20÷350
20÷350
20÷350
oz/sq yd
0.85÷14.8
0.85÷14.8
0.85÷14.8
Hopper lenght
mm
3400
4200
5200
ft
11.15
13.78
17.06
UH – Chain
The feeding system is realized by a wide steel chain conveyor with cross-bars. The chain is guided by toothed pinions that enables a constant traction maintaining a correct translation synchrony, without skidding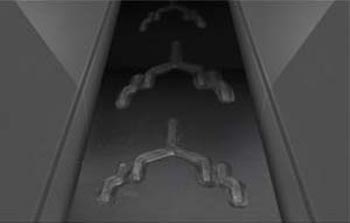 UK – RUBBER BELT
The feeding system is realized by a double layer natural rubber belt with polyester and nylon core. The traction roller that moves the rubber belt is crowned to avoid side deviations and tired to minimize skidding.
UP – AUGER
The feeding system is realized by an auger with variable pitch turn that is designed to assure a continuous feeding of the material and a linear emptying of the hopper. The auger is finished with a special paint treatment to provide lasting protection against the corrosion.
ECOSAT
Latest generation microprocessor controlsystems, with maximum flexibility in programming and visualizing the different spreading parameters: width, asymmetry and dosage depending on the vehicle speed. Six different tools in all-in-one control box
WORKING SCHEME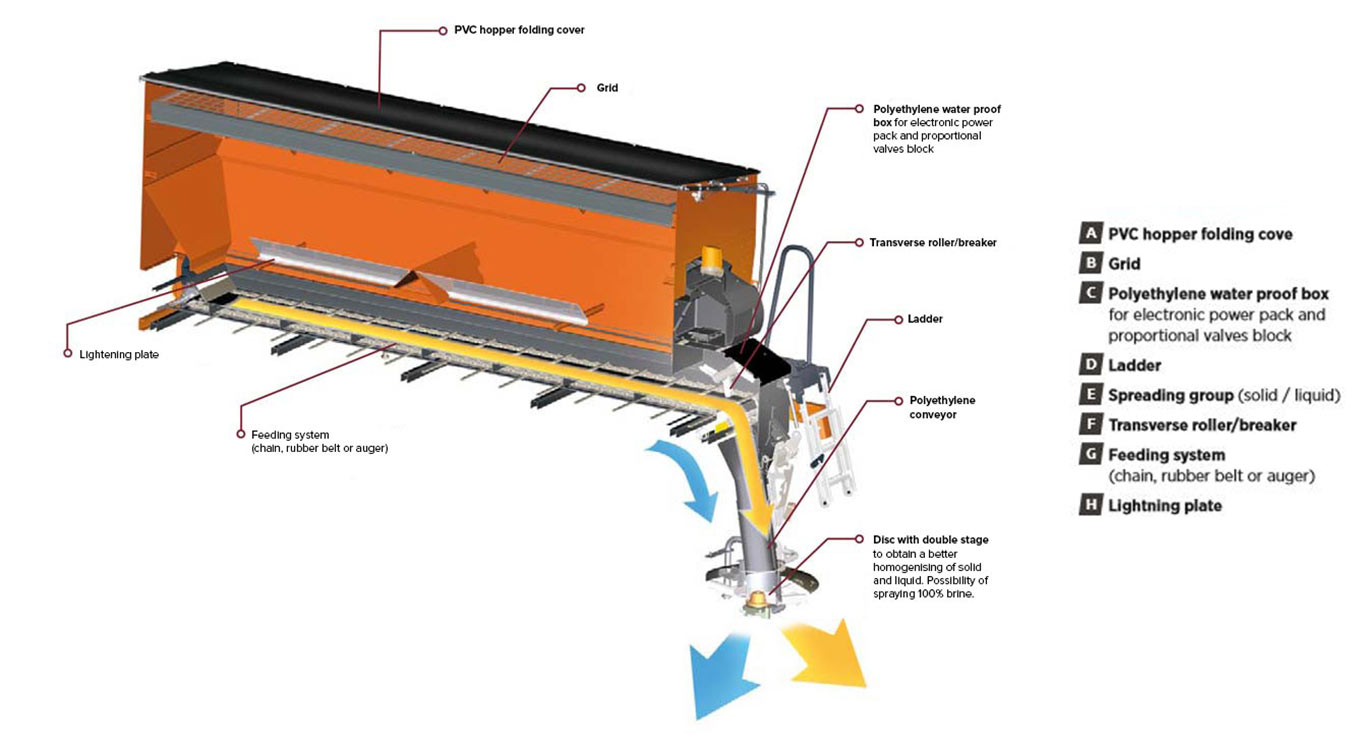 MAIN OPTIONS ON REQUEST

ASYMMETRY
Electric regulation of spreading asymmetry in 5 pre-set positions from the driver's cab

SECOND DISC
Second spreading disc to increase the salt and/or brine spreading width.

SPRAYER BAR
Spraying bar through pressure nozzles for the spraying of 100% of the brine.

LATTER
AISI 304 stainless steel ladder for easy accessibility positioned in the rear right part.

PVC HOPPER COVER
PVC hopper folding cover manually opened from the ground with steel structure.

GRID
Galvanized grid. Possibility of AISI 304 stainless steel grid (opt. G1/X).