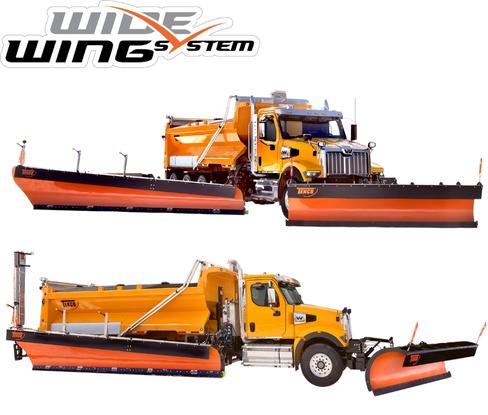 Wide Wing System (WWS)
Tenco's Wide Wing System (WWS) is perfect for highway and roadway winter maintenance. It provides multiple lanes snow and ice clearing in a safe manner. Flexible, the WWS clears two (2) lanes and shoulder or any other configuration up to 27 feet wide in one pass.
The Wide Wing System is a complete turnkey solution – truck and mounted equipment combined for seamless, trouble-free integration. It features: a 21-foot wing, 12- or 14-foot reversible front snow plow, 17-cubic-yard capacity body/spreader, pre-wet brine tank, control and safety systems.
System components are easily controlled and maneuvered using a joystick. The functions thus centralized, the task of the driver is simplified, and he can therefore focus all his attention on the road.
Clears (2) lanes and shoulder or any other configurations up to 27′ wide
Ideal for highways and roadways with any number of lanes
Pre-wets and spreads deicer/abrasive materials
Engineered to tackle various snow depths and types
Many security features to insure truck, operator, and motorists safety