SNOW PLOUGHS
M AND L
Designed to work with positive or negative angle with steel, rubber or polyurethane cutting edge (MV and MP).
MAIN HIGHLIGHTS
Modular concept composed by No. 3 main groups:
– Shield(polyethylene shield and monolithic steel structure with high tensile strength)
- Hydraulic groupe for lifting and orientation
- Cutting edge(rubber/polyethylene for fresh snow, steel for packed snow and double for every condition)
GILETTA M
MODELS NUMBERS
CUTTING EDGE
WIDTH(FT)
WORKING
WIDTH(FT)
ROTATION
ANGLE
MA/MC/MN/MP/MV/MF 32
10'6″
9'4″
30°
MC/MN/MP 34
11'1″
9'11"
30°
MA/MC/MN/MP/MV 36
11'9″
10'5″
30°
MC/MN/MP 38
12'5″
11′
30°
MA/MC/MN/MP/MV/MF 40
13'1″
11'7″
30°
MC/MN/MV 42
13'7″
12'2″
30°
MC/MN/MF 45
8'2″
13′
30°
MP/MF 47
15'5″
13'8″
30°
MV 50
16'5″
14'4″
30°
MV/MF 56
18'4″
15'11"
30°
MV 62
19'8″
17'11"
30°
GILETTA L
MODELS NUMBERS
CUTTING EDGE
WIDTH (FT)
WORKING
WIDTH (FT)
ROTATION
ANGLE
LA/LC/LN 28
9'2″
9'3″
30°
LC 30
9'10"
8'8″
30°
LA/LC/LN 32
10'6″
9'1″
30°
LC/LN 34
11'1″
9'10"
30°
LA/LC/LN 36
11'9″
10'2″
30°
LA/LC/LN 40
13'1″
11'4″
30°
HYDRAULIC SYSTEM
Snow plough lifting/lowering movement is realized by one double effect hydraulic cylinder. Snow plough orientation (left/right) by two double effect hydraulic cylinders connected to a safety twin by-pass valve to prevent demages during working conditions in case of lateral shock.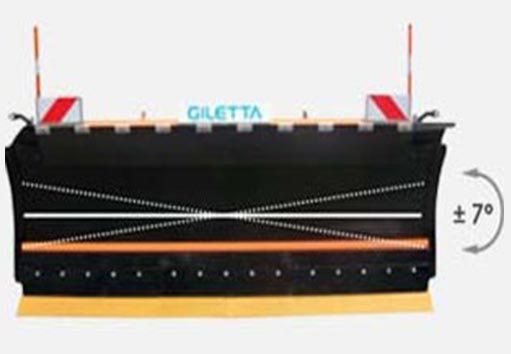 Tilting system connected to the monolithic structure for a ± 7° rotation angle to follow road surface
CUTTING EDGES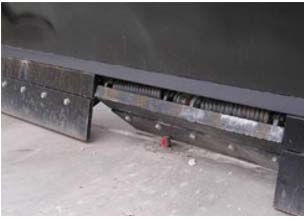 Detail of torsion system to overcome obstacles (Steel cutting edge)
Detail of double cutting edge (Hardox 400 steel and Neoprene rubber)
SNOW PLOUGHS MAIN OPTIONS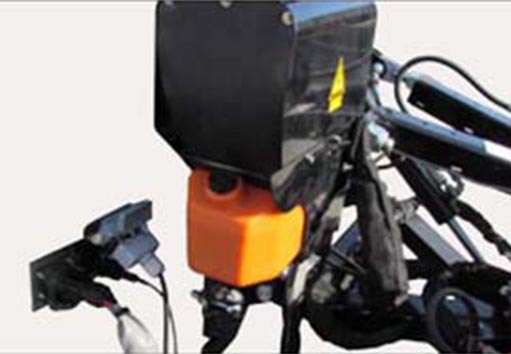 C30 / C31 – Electro-hydraulic unit
For electro-hydraulic drive equipped with joystick to command the plough inside the driver's cabin.
A2 – Side deflector
Possibility to modify hydraulically the inclination angle. Available for M and L snow plough.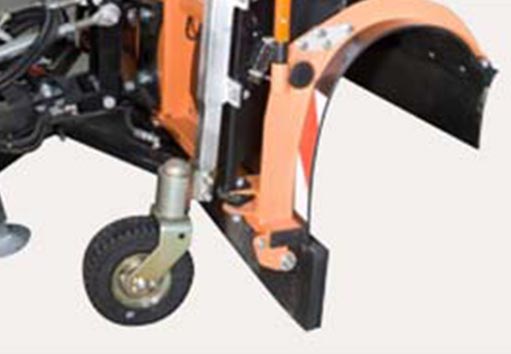 A1 – Castor wheel
Only for single cutting edge.