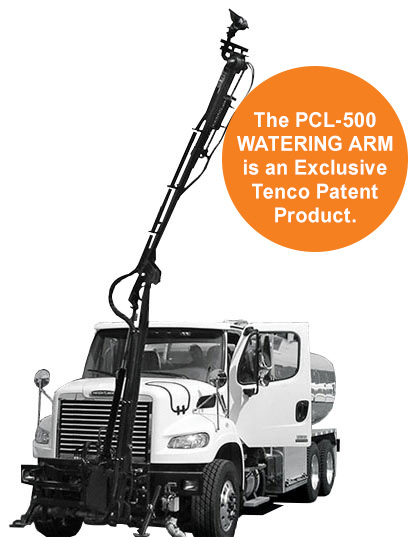 PCL-500 TENCO
WATERING ARM
Benefit from Tenco's expertise as North America's only manufacturer of watering arms.

• Add a reliable piece of equipment to your tanker truck.
• The PCL-500 arm is the safest and most reliable equipment on the market.
• Flexibility allows the arm to move around obstacles such as park benches, garbage cans, etc.
• The powerful PCL-500 allows cleaning the streets with the water flow controlled by the directional nozzle.
• Can be used for spraying chemicals on trees, flowers, and lawns.
• Other possible uses with the PCL-500 iswatering winter exterior skating rinks.
• Entirely hydraulic components.
Thanks to its extendable arm and directional nozzle that can bypass obstacles, the PCL-500 offers a clean, safe, and efficient way to hose down sidewalks and water flowers in hanging baskets on lamp posts.